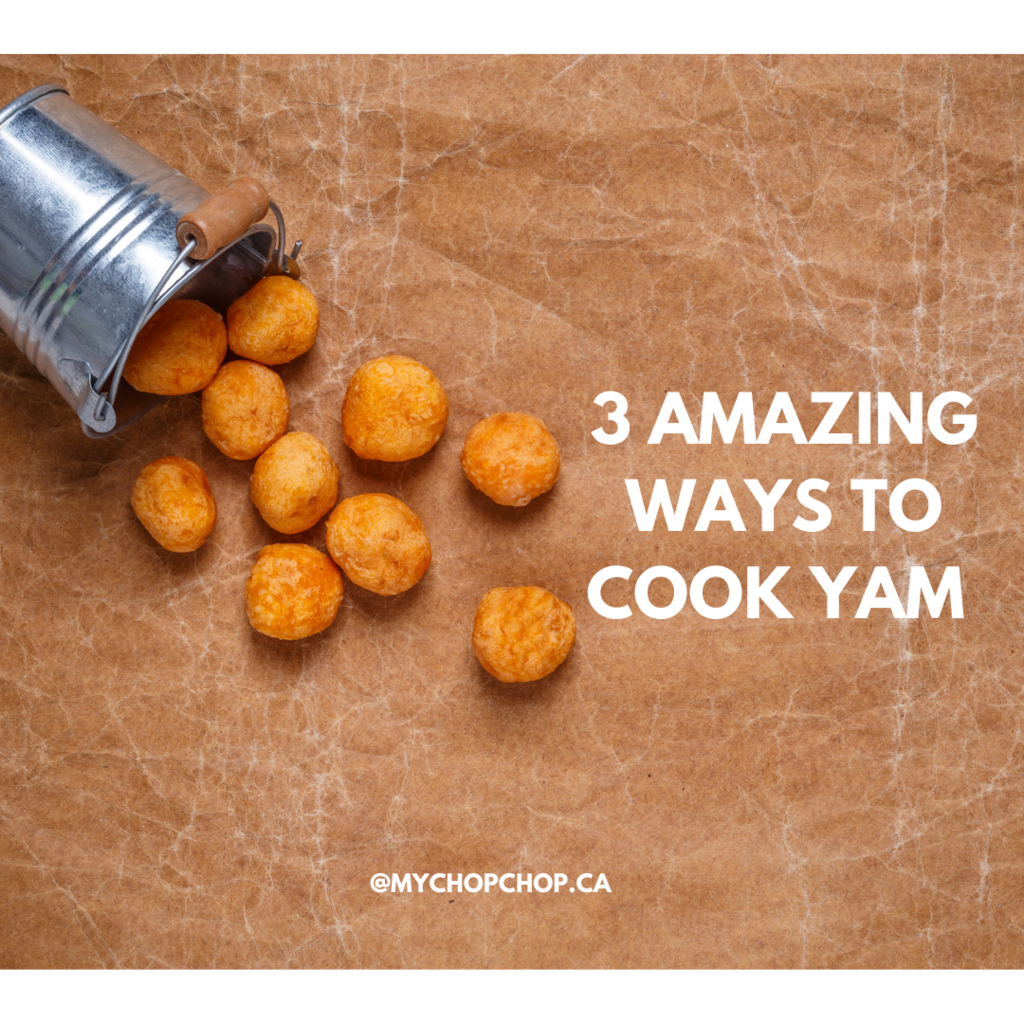 3 AMAZING WAYS TO COOK YAM
I know you are familiar with regular Yam recipes like Yam porridge , Yam and egg, Roasted or fried yam etc so I will be sharing 3 amazing not so popular Yam recipes with you.
Yamarita 
Yamarita is yam coated in flour just like your favorite KFC Breaded chicken. 
What you need: Yam, flour, eggs, seasoning cubes, salt to taste, cooking oil
How to cook
Cut yam into desired shape and peel 

Rinse in a clean bowl of water and put into boiling water 

Leave heat on medium and let yam boil for about 10 minutes till it is tender but firm

In a separate bowl, mix flour, peppers and seasoning together

In another bowl, break the eggs and add salt and mix it together

Then dip the yam into the egg first, then, dip into the separate bowl of mixed flour from step 4. This is so the flour can stick well on the yam

Once the yam is coated with flour, you can dip it into the eggs again 

Add cooking oil to a frying pan under medium heat.

Then fry the coated yam into the hot cooking oil

Fry till golden brown

Remove it and serve with a sauce of your choice
Yam balls
What you need: Yam, egg, milk, butter, pepper, seasoning, vegetable oil, onions, salt, 
How to cook
Peel the yam and cut into smaller chunks like you're making porridge

Rinse and add into a pot of boiling water. Then, add milk and salt to taste 

Add your peppers, butter, seasoning and any other condiments of your choice

Stir it all together and let it cook till soft

Mash the cooked yams until it becomes smooth

Then, wait till it cools down and mould the yam into small balls

Whisk eggs together in a bowl

Dip the yam balls into the whisked egg and fry under medium heat till golden brown

Allow it cool and serve as a snack 
Baked yam cheese
What you need:  Yam, onion, cheese(preference), milk, eggs,vegetable oil, salt, breadcrumbs, butter
How to cook
Peel, slice and rinse yam and cook for about 10 minutes 

Chop your onions and grate your cheese in a plate

Drain the excess water from the yam if any and mix with butter, milk or cream.

Then, whisk your eggs together and add to the mixture from step 3

Add seasoning and salt to taste 

Set your oven to 200°C to preheat.

Put the yam mix into a baking pan and sprinkle the grated cheese and breadcrumbs on it

Bake for about 30 minutes till the cheese is melted

Take it off the oven and let it cool down

Then it is ready to be served.