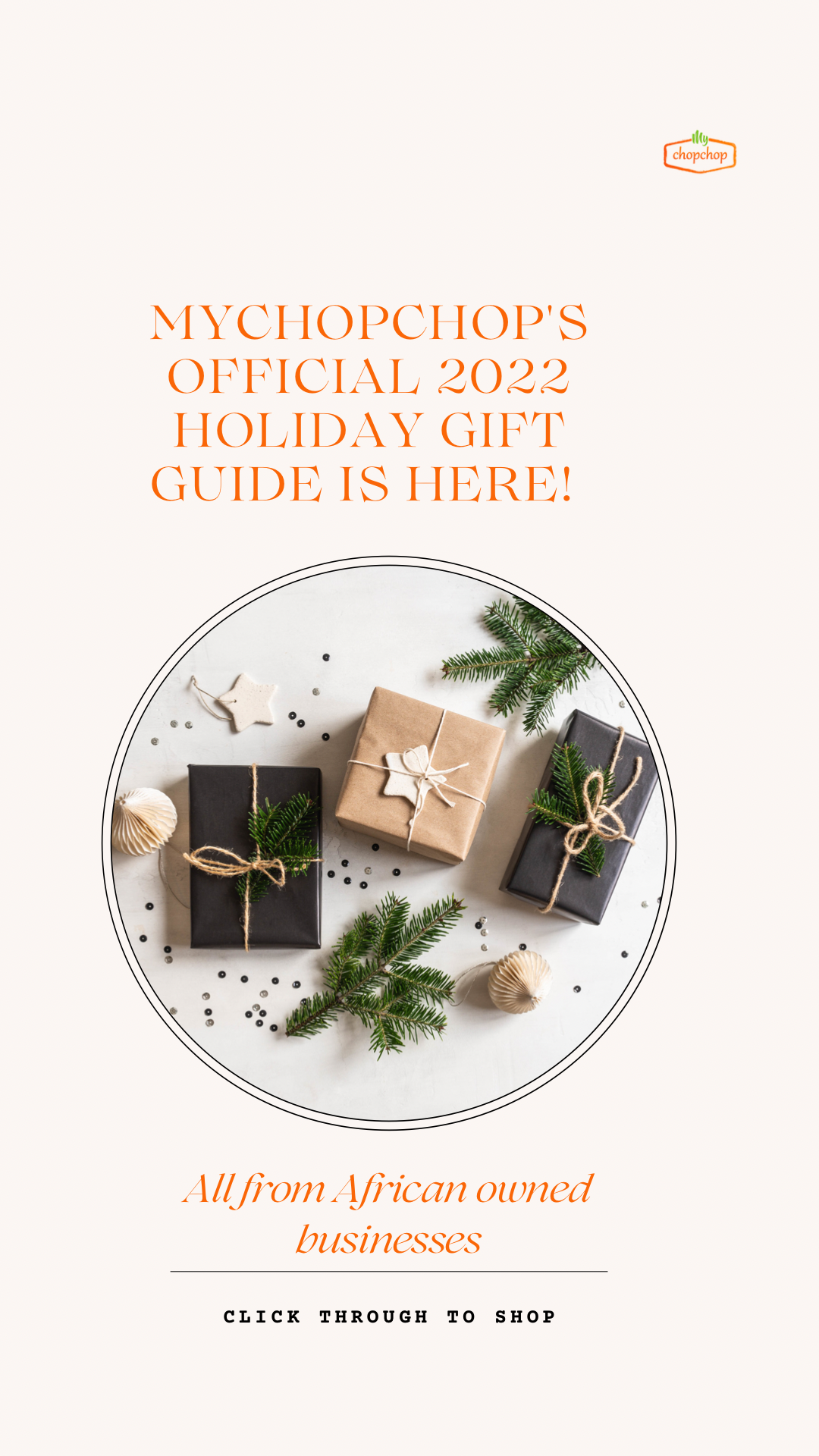 Mychopchop's 2022 Official Gift guide - All African-owned businesses
The holiday season is just around the corner and you are probably starting to think about what to buy for your friends and family. Just before you complete your gift shopping, can I ask you to be more intentional before you load up that  shopping basket ? You can be more intentional with your gift shopping by giving some love to businesses run by African-owned businesses this holiday season. Supporting  small businesses in your community is one of the best and most long-lasting methods to give back and support your community.  
To support other African-owned businesses like us, we have curated this special gift guide for the holiday season. It will give you some ideas on what to get your loved ones this Christmas from African-owned businesses in Canada and the US.
GIFT GUIDE FOR THE SPICE LOVER
Is your loved one a spice lover and they can't seem to get enough of spices? Then spice up their holiday gifts this year by shopping from any of the brands below
Their range of spices  are made with herbs, peppers and spices . They contain no GMO and ingredients are sources from the US and from select farmers in Africa.  Many spices do not list all their ingredients. At Iya Foods, they list everything
Their spice range includes; Peppersoup African spice, to Suya steak and Pri Pri Seasonings.
POKS Spices is a Texas-based and West African originated seasoning company, on a mission to introduce the West African holy trinity of spices via award-winning West African Seasonings, to the spice lover. West African foods and flavors have influenced cuisines around the globe including Southern US and Caribbean cuisines, when it comes to West African flavors, the distinguishing feature is spicy heat, and bold flavors, and this exactly what POK's SPICES is all about . This is a perfect gift idea for anyone who loves bold flavors and spicy heat!.
Stating in their own words from their "About Us" page, Gloria's Shito is "the gateway to Ghana through food; no passport required". A beautifully crafted and time intensive condiment, made from the careful selection and blending of hot peppers, ginger, garlic, onions, tomatoes (and often fish) to capture a bloom of umami & spice; richly elevating a large variety of international cuisines. A brand based in Los Angles, California, U.S.A, Gloria's Shito is a delicious condiment you need to have in your staple. Oh!, they have vegetarian products as well!
GIFT GUIDE FOR THE FOOD LOVER
We all know that food lovers are always looking for new recipes to try, restaurants to visit and new foods to taste.  We created this gift guide with the intention of making it easier for you to find the perfect present for your foodie friends and you (if you are a foodie). The products in this category will either free them from the stress of cooking or make cooking way easier or their food yummier!   
What is this list without a meal kit from our store?
Meal kit delivery is really an underrated gift for the busy people on your list. Mychopchop feasts are designed to make cooking as easy as it can get for you with ingredients to make the meal. Each meal kit takes the meal-planning and grocery shopping out of the process. Instead, they can enjoy the process of prepping, cooking and occasionally adding in their own favourite flavours. 
The holiday meal kit ranges from the Jollof Feast to swallow (okele) a traditional Nigerian dish
IN – HOUSE CATERING @radpot.ca
Want to kickback and relax this holiday without worrying about cooking? Chef Detolu from Radpot.ca will be more than happy to get the cooking off your neck this holiday. Radpot.ca is an In-house catering that specializes in West African dishes (majorly Nigerian dishes) and fine dining.
Made with love in Toronto, using only the freshest ingredients 'It's Souper's' range of tasty soups and stews are sure to amuse your palette and tickle your tummy. The best part is they have Yummy vegan products too! No need to worry about you or your loved being a vegetarian and not having delicious variants to select from.
Basbaas foods specializes in the production of African-inspired sauces and condiments, that hit all the mouth feels: sweet, salty, acidic, spicy, and savory. Using a blend of fresh herbs, dried fruit, peppers, and spices, their products are versatile, delicious, and plant-based. Their products are all-natural, gluten-free, no added sugar, vegan and made in small batches in the U.S.
GIFT GUIDE FOR THE FASHIONISTA
Whether it's for your stylish college bestie, lover, little sibling or colleague, we got you. This guide has everything a fashionista will absolutely fall in love with. From minimalist outfits, to African printed outfits to hand-made bags crafted with love.
OFUURË is an award-winning African fashion brand featuring beautiful pieces with vibrant prints and bold patterns for the every-day Queen and fashionista. They've got a stunning array of patterns, designs, fabrics, and clothing options, whether it's laying in bed, draped in one of their luxurious satin pj sets or soaking up the sun in an exotic beach, ÖFUURË, has got you covered!
The name Amaka, means precious in Igbo, eluding to the richness of its Founder's Nigerian origin. With each unique piece, Amaka gives fashion-lovers the freedom to embrace culture, art, and sustainability, with the audacity to redefine what it means to be luxurious. Their bags are designed with premium vegan leather in a conscious effort avoid the use of animal products, produce less carbon dioxide, avoid the use of toxic chemicals, and use up less water. The perfect addition to you or your loved-one collection of bags.
Thinking of a minimalist fashion brand that's simply elegant and timeless? Think Israella Kobla. Inspiration for the Toronto based brand comes from the designer's interests in fashion and a past life as a civil engineer. Israella Kobla pieces highlight an appreciation for architecture and timeless design. Sophisticated designs for the perfect fashionista.  
Lili creation is a Unisex African owned brand, Lili creation offers styles to meet the needs of women, men and kids looking to add Africanism and Modernism to their wardrobes at a reasonable price. Their range of products includes fashionable and unique outfits and accessories that make you stand out !
GIFT GUIDE FOR THE KIDS
Looking for a gift for the kids? Browse through our curated list gifts. From wearables to loads of books, your little ones aren't left out this holiday!
Childlike code uses hand painted prophetic illustrations and interactive products or activities to help children (and adults) develop their child-like faith (religious faith). In the brand's own words "our hand painted illustrations aim to encourage everyone that we can come to the Father as His children. Their flashcards encourage children to learn about God and find their faith in God as well.
Omosilk as a brand started when her children experienced hair loss while growing, not only did she discover that silk was soft and gentle, its hypoallergenic nature was perfect for her kids who have several allergies as well. Omosilk products provide healthy benefits, comfort and confidence. Their products are the best to cater for all hair types; from newborns and beyond!
They are designed with love in Los Angeles, U.S.A. The name, Omosilk, stems from the Edo/ Bini tribe in Nigeria where brand owner is originally from, with "Omo" meaning children, the inspiration for this brand.
Little Omo is an inclusive award-winning brand create by first-time mother Desriee (Founder & CEO) with the intention of providing educational materials and toys for children, that includes and teaches them about diverse cultural representation. Their toys and resources are great for independent learning and family activities, their books also aid children of diverse background feel represented and included.
They create books, songs, animations and learning resources for parents, schools and libraries around the world. They recently published the popular children's book series Africa's Little Kings & Queens, a collection of beautifully illustrated picture books inspired by ancient history's great leaders. Mansa Musa Builds a School is another book of theirs that has been recognized as one of the top ten children's books with empowering black characters by The Independent two years in a row (2021 and 2022). 
Children books by Sewa is a brand founded by Adesewa Laoye-Olorunnaiye, a Mother, Activist and Middle School Teacher from Orangeville, Ontario, Canada. She has an amazing passion for storytelling , specifically writing books for children.  Her latest publication is "Men Like My father" 
In a society where the overall representation of black males in the media is distorted in a variety of ways, Men Like My Father is a book filled with gentle reminders of how valuable, kind and ambitious black men are in our community. Your children can read this book to confidently know they have good role models in their black fathers
The brand's major push to starting up is the fact that there are few children's books that reflect black or African realities. Their dream is that every child grows up seeing their realities reflected in books and that all children are able to read diverse stories about different experiences. This is a brand that encourages children to be comfortable in their skin color and embrace our African ethnicity.
GIFT GUIDE FOR THE MAKEUP & HAIRLOVER
Gift ideas for the makeup lover friend of yours who is always put together and loves all things makeup and hair.
Loola is a product line inspired by diversity and beauty traveler's. Their products are multi-purpose line of products with a diverse variety of colours in the industry. All products are  made in an environmentally conscious way and available at affordable rates. Ultimately, a smarter way of cosmetic enhancement for your giftee!
Ganvas beauty wigs is a hair brand that caters to women and seeks to beautify women through hair care products, accessories and extensions. They also cater to everything haircare through their salon!. Feel free to either purchase some of their products for your friend or book an appointment.    
Bossy lipsticks main aim is to ignite confidence in ambitious women through exquisitely-crafted clean cosmetics and topical content. They have an amazing array of beauty products ranging from lipsticks to eyeshadow palettes, highlighter, mascara and glosses. The best  part is that they are affordable.
Juvia's place is a beauty brand, focused on enhancing the beauty of women. Their sophisticated collection of beauty products from lashes to glosses, eyeshadow palettes, etc will leave in awe and possibly confused on what to get in a good way!. Their brand screams bright and proud.
Adwoa (ahh - ju-WAH) a name designated for females originating from the akan day naming system, "adwoa" means born on a Monday, in Ghana and Cote'd'ivoire, West Africa.  Adwoa beauty is a modern, non-toxic, gender-neutral beauty brand catering to multi-cultural hair textures. Their hair products are unisex, but majorly for people with kinky hair.
GIFT GUIDE FOR THE SKINCARE LOVER
Shopping for a skincare lover in your life? Our list  features five recommendations that will make amazing gifts for anyone on your gifts list this holiday season
Topicals is a skincare brand on a mission to transform the way we feel about our skin through mental advocacy and effective science – backed products. They constantly improve their formulas through customer feedback and new clinical findings to ensure that their products are skin friendly and suitable for all skin types.  
Karite costmetics was founded by three sisters from Ghana, West Africa with a passion for skincare & love for shea butter. They blend their pure ingredients with unrefined organic coconut oil and other botanicals to create the perfect moisturizer that soothes and heals even the most sensitive skin. 
The name Serumize, according to the brand is rooted in a fact that serums are designed to deliver high concentrations of specific active ingredients to the skin. First up is their creamy foaming cleanser. It's both gentle *and* packed with antioxidants, meaning it won't irritate your sensitive skin while treating it to some serious tender, loving cleansing. Their serums are available in two different formulas: one for clarifying and zit-busting, and an intensely hydrating one that'll help keep dryness at bay.
Daizaura by GoodSkinGuru brings you 100% handmade organic and natural cosmetic products made from the finest grade natural ingredients. No toxic ingredients and endocrine disruptors whatsoever.  Daizaura cosmetics are manufactured in small batches to ensure that products are as fresh as possible when you get them.